An S-meter is simply a sensitive movement which measure current through an agc line to give a relative indication of signal strength. The face of an S-meter is calibrated in units S1 to S9 plus levels of dB over S9. There is no real official standard for S-meters as such
WWW.ELECTRONICS-TUTORIALS.COM
LAST MODIFIED:

S METERS
What is a S meter and what does it do?
An S-meter is simply a sensitive movement which measure current through an agc line to give a relative indication of signal strength. The face of an S-meter is calibrated in units S1 to S9 plus levels of dB over S9. There is no real official standard for S-meters as such.
I assume you understand both I.F. amplifiers and automatic gain control (A.G.C.). The agc works to maintain a relatively constant audio output consistent with the setting of your volume control. It works on the principle if there is a strong signal at the final detector of the receiver then a counter dc signal goes back to the if amplifiers to reduce the gain to a pre-set level.
Alternatively with weak signals, this dc signal is almost absent allowing the if amplifier to go full gain. For received signals which are somewhere in between weak and strong the dc signal is proportional.
Ideally, under any received signal conditions the signal level at the detector should be a constant 1V p/p, all controlled by the agc.
An S-meter is simply a meter set up to measure the current through the agc control line so that on strong signals it shows say S9 + 20 dB while on weak signals it might be at the bottom end of the scale on say S1 or S2.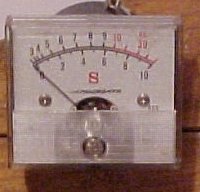 Figure 1 - an S meter
Be aware, they are notoriously inaccurate, can not be compared between various receivers and are only useful for relative measurements applicable to your receiver, using your current antenna, at your present location and on one particular band.
They are widely misunderstood and all too often an S meter is given a level of importance they don't rightly deserve.
S-meters are as accurate as a group of people standing by the road and individually estimating the speed of passing vehicles.
Link to this page
NEW! - How to link directly to this page

Want to create a page link to me from your site? It couldn't be easier. No HTML knowledge required; even the technophobes can do it. All you need to do is copy and paste, the following code. All links are greatly appreciated; I sincerely thank you for your support.
Copy and paste the following code for a text link:
<a href="https://www.electronics-tutorials.com/basics/s-meters.htm" target="_top">visit Ian Purdie VK2TIP's "S-Meters" Page</a>
and it should appear like this:
visit Ian Purdie VK2TIP's "S-Meters" Page
the author Ian C. Purdie, VK2TIP of www.electronics-tutorials.com asserts the moral right to be identified as the author of this web site and all contents herein. Copyright © 2000, all rights reserved. See copying and links. These electronic tutorials are provided for individual private use and the author assumes no liability whatsoever for the application, use, misuse, of any of these projects or electronics tutorials that may result in the direct or indirect damage or loss that comes from these projects or tutorials. All materials are provided for free private and public use.
Commercial use prohibited without prior written permission from www.electronics-tutorials.com.


---
Copyright © 2000, all rights reserved. URL - https://www.electronics-tutorials.com/basics/s-meters.htm
Updated 15th September, 2000